I took off from Hong Kong, transferred in Moscow, and landed in Athens on June 28, 2015. I saw the ATM at the airport had the longest lines I had seen when I met up with my friend R who is hosting me for my first week in Greece. I didn't understand why people seemed so eager to take out cash from the ATM. I was in Athens during one of the most crucial times in Greece : The 2015 Greek Referendum.
"Maybe they all came from downtown Athens just to get money out of the ATM. It's Sunday today, so every ATM in the city may very well be out of cash already. Maybe the machine here would have more money for you tourists. Hahaha …" R told me everyone wanted to get their money in advance because all the banks shut down until the Monday after next week.
During the week I was in Athens, Anyone who owns a Greek bank account was only allowed to take 60 Euros from ATM per day. Also, the government has announced that all public transportations were free in Athens and its surrounding area to save some cash for the people.
Well, good news for us tourist?
My friend lives in Porto Rafti, which is about 45 minutes drive from Athens. The second day in Greece, I went to Acropolis Museum with our Japanese friend S while R had his dental appointment.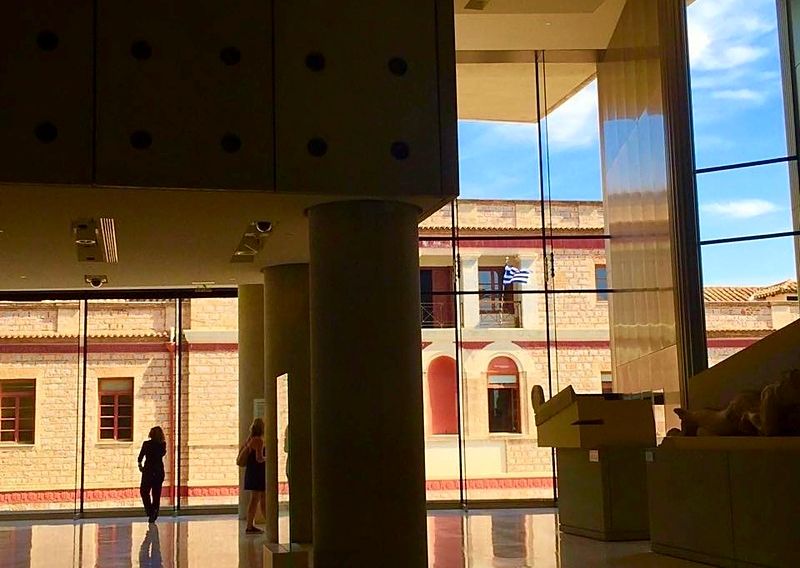 The museum is quite new with very few collections. When S and I stood in front of the headless Aphrodite, a woman who was working in the museum walked toward us. She told us most of the sculptures we saw were copies. The originals are all in the British Museum. We could feel a sense of helplessness and hopelessness through her expression.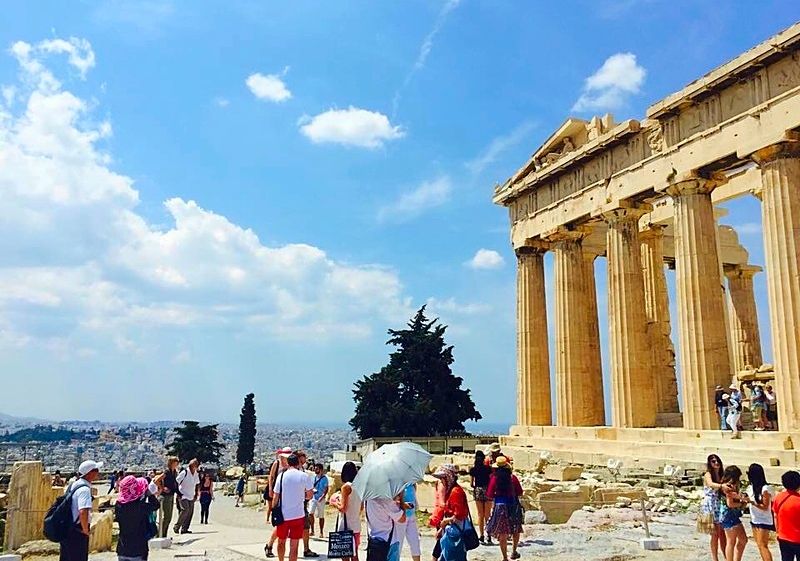 We met up with R at the Acropolis. The Acropolis in Athens had tourists visiting from all over the world. We went over to the edge of the hill. R asked both of us if we see the big yellow building.
That's our parliament. It's where democracy will die. The Old Town is on the other side, and that was where democracy was born.
After the Acropolis, we saw few journalists, photographers, reporters, and police around Syntagma Square. R said a protest will happen in the centre, but there's nothing to worry about since the police most likely won't throw tear gas around like three years ago.
"It is too hot now, and it's almost siestas time. The gathering won't happen till later." Well, the temperature was only 28 Celsius – That doesn't qualify as hot in my opinion, but I guess the protests here are in Greek style? I think I indeed came to Athens at a historical moment. I was lucky to have free transportation, but at the same time, the freebie happened because of what is going on in Greece. I felt uncomfortable about my fortune.
July 1, 2015, CNN announced that Greece is officially bankrupt. I asked R what is going to happen next?
"We all kill each other? No, nothing is going to happen. The line in front of ATMs may get longer, but life keeps going. I also don't know why CNN even bothered to do this whole countdown thingy. They said if we didn't pay IMF before 1 AM, then we are officially bankrupt. What's the point? We already stated we have no money to pay them two weeks ago! Ughh … Whatever, let's have some breakfast."
R's brother said maybe bankruptcy is a good thing. To Greeks who didn't wish to accept EU's offer, they would rather go back to their currency and start all over.
I read some articles online about the economic crisis in Greece before I came to Athens. Most of the articles said Greeks were spending money irresponsibly, but what do local Greeks think? My Couchsurfing host told me the government promised the people who the economy would improve if they adopt Euro as their currency, and they did have a good run. "It was the best time," H said the basic salary was around 700 euros seven years ago, but now it's only 450 euros.
The reality is: people's lives didn't get better after adopting Euro. With time goes by, Euro has only increased the gap between the rich and the poor. Nowadays, the government even wanted to sell their beaches to big business for hotels and resorts constructions to boost the economy.
When I was in Greece, I've heard many people told me how they hate the EU, they don't like Germany, and they would rather leave the EU. Moreover, according to R and H, there's a hidden power controlling Greek media. The media always mention about how important it is for Greece to stay in EU. Therefore, the elderly Greeks who only learn their information from TV, who have a limited amount of information towards the situation would consider anyone who wanted to vote for "OXI" crazy. The interesting thing is the police officer I met in Santorini also told me Greece would fall into chaos if it goes bankrupt, although I have no idea if that was what he thinks, or if it was just a police officer's perspective.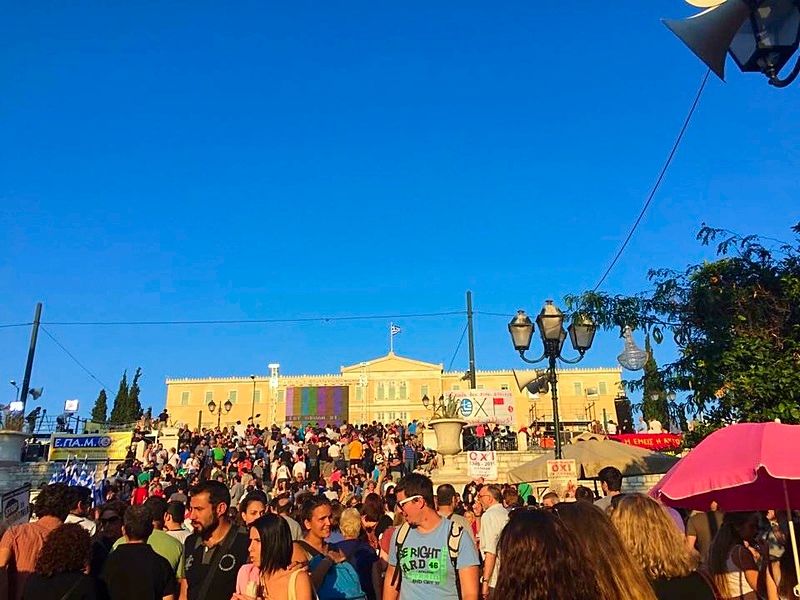 The voting day for the 2015 greek referendum has come …
On July 3, 2015, two nights before the referendum, OXI supporters gathered at Syntagma Square. I saw some flashes and heard noises that sounded like an explosion before the gathering started. I also saw some people running. H told me to walk away from the centre of the crowd.
I think the cops are throwing flash bombs. This is not good.
Luckily, the tension didn't last for too long. There were many children, vendors as well as bands playing throughout the night. A small group of NAI supporters were dancing and singing on the side, but no conflicts happened. We had to walk a few miles to get out of the crowd when we decided to leave around 21.30. According to the news, there were around 30,000 OXI supporters at the square! I returned to Syntagma the next day and was very impressed to see Syntagma being clean as if there was nothing happened the day before.
the result?
All Greeks who are 18 and above are mandatory to attend the referendum. Aegean Airline also offered discount tickets for Greeks to go home and vote. Sunday, July 5 was the day of the referendum. OXI is no, NAI is yes. It was clear that most of the people were going for OXI soon after they started counting the vote. Everyone was partying and cheering for the result. By saying OXI, they were also saying no to capitalism because they believed that going bankrupt would probably be better than saying yes.
On the other hand …
My host who works in Santorini as an immigrant looked at the situation differently. He was half Indian, half Pakistani, and he came to Greece when he was 17. He asked me if I know why Greece is having a financial crisis. I didn't give him my opinion, then he said:
"it was because they are lazy. Many people would borrow money from banks to go on vacation. It's a long road down the tunnel if Greece wants to get back on its feet."
Even so, Greeks are very proud of the results despite their lives are just about to get tougher. "Freedom or Death" – This famous Greek motto represents how 63% Greeks felt about their financial crisis, despite the entire world thinks Greeks are digging their own graves. S told us Japanese were commenting on their online forum, saying that "Greece is truly the birthplace of democracy" after they knew the result.
"Of course we are, and the EU is basically Hitler," R said.
One has told me: "Greek has lost themselves in euros," but no one knows whether the result of the referendum will let Greece become better or worse. What is important is Greeks decided together through democracy. Although we as outsiders have no idea why they made such decision, this is a country with one of the most ancient civilisations, and I am pretty sure they will survive in their way.
---
Enjoy this post? Like my Facebook page to get updates in your feed!
Note: This is an old post I wrote last year when I was in Greece. Apparently, Greece did not leave EU despite the referendum result.